Testimonials
"A job well done. Engineer was knowledgeable and informative. Powerflush remedied the problem with radiators efficiently and the price offers good value for money. Recommended."
Edward Watts, Harrow
"All one asks for is a professional job properly done at reasonable cost. Powerflushdoctor engineer fulfilled all of these criteria admirably.
Jon Swain, Mitcham
"First time I've found very cheap powerflush company but the guy didn't know what he was doing , he didn't know how to connect it propely and as a result floded central heating electrics. Second time I was more careful and after searching found company called - Powerflushdoctor which specialize in powerflushing and this time I've found real professionals. Adam did a marvellous job. All radiators are working perfectly. I would recommend Powerflushdoctor to anyone."
Mala, Southgate N14
"I was delighted with the work carried out on our central heating system by Powerflushdoctor. The combi boiler system works better than ever now that a surprising amount of sludge and debris has been removed. The whole flushing process was carried out systematically and cleanly with no mess whatsoever. Powerflushdoctor also installed a magnetic filter which should keep the system clean indefinitely. Great value for money and thoroughly recommended."
A Goldsworthy, Clapham
"Delighted (and we're fussy!). Reliable, conscientious, polite, efficient, stuck to quote. Couldn't speak more highly of the man. Would/will use again."
Jeremy Fordham, Fulham
"Its sometimes the little things that you appreciate like the fact engineer was exceedingly polite and took his shoes off in the house. For the powerflush he made sure the radiators were fully working before he left and waited until they were fully hot all the way. He also gave us good advice on our boiler and heating system. Would strongly recommend him for powerflushing..."
Q Khan&Mina Park, Finchley
"Very helpful and knowlegable, also happy to work around your schedule - very happy"
Brian Armstrong, Hampstead
"Thank you very much for the very efficient Powerflush you did on our central heating system, recently. We appreciated your swift response to our initial query. Also, we were very impressed by the value for money, given that the process is very time-consuming. You arrived when you said you would; worked without fuss or mess, and the job was done to our complete satisfaction. We would have no hesitation in recommending you to anyone seeking a Powerflush or help with their central heating systems."
Mr Stuart Fox, Richmond
"Heating engineer was not happy until he found out what the problem was in our heating system. He had to come back a second time with no extra charge until he worked it out. Punctual, corteous, reliable. Will definitely recommend him to friends and property agent."
Chris Clegg, Paddington
"Powerflushdoctor engineer did an excellent job. He arrived on time, worked quickly and efficiently and explained each step of what he was doing. He completed powerflushing to a high standard and charged only what he had quoted - there were no hidden costs."
Tom Smith, Camberwell
"Adam was very helpful, reliable & efficient. We have had a few different people out telling us different things were wrong with our boiler, Adam was the only one who knew what he was talking about. He advised to do a powerflush. He did a good job, was quick and tidy. Now we have a hot shower. Would definitely recommend."
Kirsty Taylor, Camden
"Very thorough and professional job. Took the time to answer my questions and got on with the job with the minimum of fuss, mess and disruption. Very pleasant guy to have around too. System now works far better than it did, and his charges were very reasonable compared to his competitors. Highly recommended and would use him again."
Julian Freeston, Bromley
"Quality 5* Value 5* Reliability 5*"
Zhan Shi, Lewisham
"I was pleased with Adam's work. came on time, explained what he was going to do and and then went about to do a powerflush with the minimum of fuss. A polite man and would recommend him. left the site clean and price was reasonable. thank you."
Subash Patel, Eastcote
"We were really impressed with the quality of the job. Comparing to other plumbers we had before he didn't spend hours on his mobile phone, he didn't spent hours sitting in a van having a lunch, worked all day until the job was finished! Thank you for a thorough powerflush with minimal disruption."
J. Desai, Luton
"We decided we needed a power flush as when the weather got cold it became apparent that most of our radiators were barely functioning and two were completely cold. It turned out to be a pretty tricky job as the system was so badly clogged up but Adam persevered when I feared he may be forced to give up and eventually, well into the evening, had all radiators fully back in action. Not one to give up he manage to return our system to a fully functioning state. He has also fitted a MagnaBooster filter to help prevent repeat problems; this he has fitted very neatly. I would happily recommend Power Flush Doctor to anyone in need of a power flush!"
Mr. Barrett Reading
"Powerflushdoctor engineer carried out the work in a clean and professional way. In short if you want a clean professional job at a price that won't make your eyes water then I would highly recommend Powerflushdoctor. I especially appreciated the way you treated my house with care and little disruption."
Mr. Patel, Woking
"Powerflushdoctor saved us a lot of money compared to a similar service from British Gas, and the warranty he offers gives peace of mind. A British gas assessment suggested pipework replacement costing thousands of pounds, but Adam had a solution that worked, saved us money, and his communication is very good."
Robin Brown, Isleworth
"I would recommend Powerflushdoctor very highly. I have had problems with the heating system towards the end of March but could not figure out what caused the problem. some suggested I should replace the boiler altogether, which was only three years old! British Gas suggested a power flush but the price was simply extraordinary. After extensive research online I decided to go for Powerflushdoctor and I have been very pleased with the service and the price. Engineer was very flexible and arranged the schedule to fit with my time, he was very punctual and professional and resolved the heating problem. All has been very efficient and professional and very good value for money. I am really pleased with he work and the service."
Giovanni Razzu, London, Arsenal
"Martin did a great job flushing our old system and making it work. Was on time and very professional and helpful in clearing up problems. Went the extra mile in fixing items that were broken too and at a reasonable price/Would definitely use him again."
Mr Gupta, Ealing
"After searching for an experienced gas engineer to undertake a powerflush and to have a spirotrap filter fitted, I was quite worried I would get someone who did not know what they were doing and I would end up with leaks but I needed not to worry as after speaking to Powerflushdoctor engineer I could tell he knew what he was doing. I found Adam of Powerflushdoctor knowledgeable, helpful, trustworthy, flexible and the service, good value for money. I would definitely recommend Powerflushdoctor."
Lena Clarke, Maida Vale, London
Central Heating and Boilers
- installation, service, repair -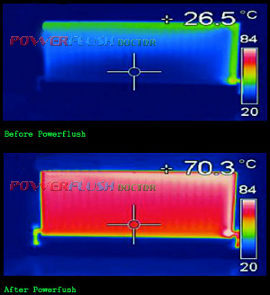 Symptoms
The boiler or pump is noisy
Combi boiler blocked heat exchanger, hot water demand - boiler fires up than goes off
Reduced hot water temperature
Boiler overheats or shuts off when hot water is needed
The radiators have cold spots or not working
It takes ages for the system to warm up
Radiators need regular bleeding of accumulated air
Evidence of sludge and rust in the system
Pump failures
Coming soon
- powerflush training courses -
- we will share our expertise -
how to powerflush boiler
how to powerflush radiators
how to unblock heat exchanger




blocked heat exchanger

Corrosion inside circulatory pump causing pump failures and circulation problems.

Rust reduced the diverter valve diameter from 22mm to around 7mm severely reducing circulation.

Inside the internal boiler component, dirt and rust causing boiler breakdowns.
We supply and fit water treatment products
Only ₤ 130 supplied and fitted
We do power flush also known as powerflush , powerflushing or power flushing, in London, Essex, Kent, Surrey, Berkshire, Oxfordshire, Bucks and Herts.